This is an archived article and the information in the article may be outdated. Please look at the time stamp on the story to see when it was last updated.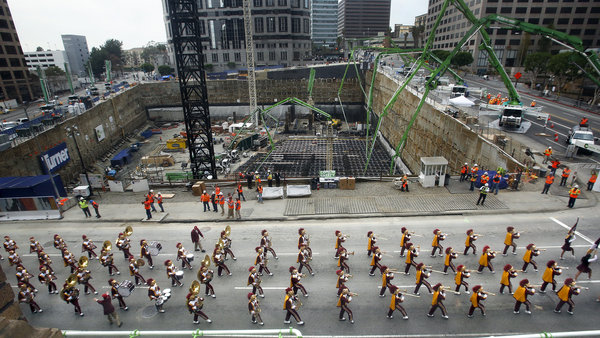 The concrete has been poured.
That was the word from an enormous hole in the ground in downtown Los Angeles, where crews were cleaning up after a marathon, overnight session building a record-breaking foundation for a future high-rise building.
Dubbed the "grand pour," the engineering feat began around 4 p.m. Saturday, when a fleet of more than 200 trucks began hauling in tons of concrete to the construction site at the corner of Figueroa Avenue and Wilshire Boulevard.
After about 2,000 truckloads and 20 hours of continuous pouring, workers had laid down more than 21,200 cubic yards of concrete that weighed about 84 million pounds, said Sean Rossall, a spokesman for the project.
Click here to read the full story on LATimes.com.