This is an archived article and the information in the article may be outdated. Please look at the time stamp on the story to see when it was last updated.
A newborn baby boy with his umbilical cord still attached was found unattended in a stroller on a South Los Angeles street corner on Tuesday afternoon, police said.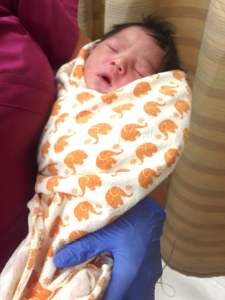 The child was found at Vermont Avenue and Dana Street about 1 p.m. after officers were called to the scene for a report of child abuse, Los Angeles Police Department Officer Mike Lopez said.
The infant was taken to California Hospital Medical Center and was in stable condition. A Southwest Division detective said the baby boy was about 1 day old.
The baby's umbilical cord was still attached, Lopez said.
A witness first saw the baby about 10:30 p.m. Monday and then saw the baby again just before 1 p.m. Tuesday, LAPD Southwest Division Capt. Sean Parker said.
Parker said the baby was there throughout the night.
"We are asking the public's help to identify the mother — to make sure the mom is safe and why the baby was left here. But the most important thing … is that the baby is safe," Parker said.
The parents' identities were not known. The child was described as either white or Hispanic.
Police were looking at surveillance video from cameras in the area.
Alex Diaz said he was the man who found the baby. He first spotted the "dirty" stroller Monday night and assumed someone had just thrown is out.
Then, on Tuesday, he walked by with his two children and noticed that a blanket inside the stroller was comparatively clean.
"Something inside me just told me to check," Diaz said. "I just never thought I was gonna see that."
The baby was wearing new pajamas and was covered in sweat, according to Diaz.
"You took your time to dress him up, but you couldn't take your time to take him somewhere safe," Diaz said. "You just left him out on the street — threw him out like trash. Can't do that to a baby."
The location where the child was found is in the Adams-Normandie neighborhood, north of USC. St. Agnes Church, an elementary school and a strip mall with a Ralphs grocery are nearby.
The baby's stroller was on Dana Street across from the church.
"It's saddening … to think, here they are, this close to a church that has social services, and all they had to do was ring the bell," said the Rev. David Matz of St. Agnes.
Under state law, anyone with lawful custody of a newborn can safely surrender the child within 72 hours of the baby's birth and face no criminal repercussions. In Los Angeles County, babies may be surrendered at any fire station or hospital, according to BabySafeLA.org.
Seventy-three newborns were surrendered statewide last year, and the state says there is generally a trend of decreasing baby abandonments since the Safely Surrendered Baby Law went into effect in 2001.
KTLA's Nidia Becerra Tijerino contributed to this article.
More Video: