This is an archived article and the information in the article may be outdated. Please look at the time stamp on the story to see when it was last updated.
An investigation was underway Sunday after a newborn baby girl was found abandoned in Lakewood and a woman whom detectives believed to be the mother came forward, authorities said.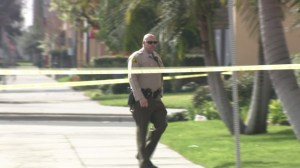 A male bicyclist was looking for recyclables about 5:45 a.m. when he heard the infant crying near the intersection of Hardwick Street and Lakewood Boulevard (map), the Los Angeles County Sheriff's Department said.
The bicyclist saw the baby, who was wrapped in a blanket, lying on a patch of grass behind a planter, according to a sheriff's statement. He then took the girl to a nearby fire station, from which she was transported to Miller Children's Hospital Long Beach.
Investigators from the sheriff's crime lab and special victims bureau responded to the scene, where a 35-year-old woman approached deputies and said she had "witnessed the mother giving birth and assisted the mother by helping cut the umbilical cord," the news release said.
The woman was taken to the sheriff's Lakewood station for further questioning. There she stood up from her seat and detectives noticed blood on the chair, officials said.
Although she denied giving birth, the blood and her story led the investigators to believe she may have been the abandoned infant's mother.
The woman was then taken to Long Beach Memorial Hospital for medical attention.
"At the hospital, the examining physician concluded she recently gave birth because the placenta and partial umbilical cord were still inside of her," the statement said. The patient was subsequently admitted for treatment due to the recent delivery. A psychiatric evaluation was pending, as were DNA results.
Sheriff's officials asked anyone with information to call detectives at Lakewood Sheriff's Station at 562-623-3500.
Anonymous calls could be made to "LA Crime Stoppers" at 800-222-8477, by texting the letters TIPLA along with the tip to 274637, or http://lacrimestoppers.org.