This is an archived article and the information in the article may be outdated. Please look at the time stamp on the story to see when it was last updated.
Detectives were seeking information Saturday after discovering a days-old newborn that had been "buried alive" near a riverbed in Compton, according to a Los Angeles County Sheriff's Department news release.
A caller reported to sheriff's officials Friday around 4 p.m. that a baby was crying in the riverbed, which travels north and south between West 136th Street and North Slater Avenue, the news release stated.
Deputies Perry and Collette responded, and they heard a baby's muffled cries as they canvassed the area.
A newborn girl, believed to be 36 to 48 hours old, was found "buried alive under pieces of asphalt and rubble inside a crevice located along the bike path," the news release stated.
The deputies removed the debris and recovered the baby, who was said to be cold to the touch.
She was then medically triaged at the scene by Compton Fire Department officials and later transported to a local hospital, where she was listed in stable condition and was in the custody of the county's Department of Children and Family Services, authorities said.
"If the child had spent the night there, in those conditions, the baby wouldn't have survived," sheriff's Sgt. Marvin Jaramilla said at a news conference.
Angel Flores, a resident near the location where the infant was found, said he was approached by two women who told him that they had heard cries while walking in the area. One of the women initially thought the sound was being made by a cat.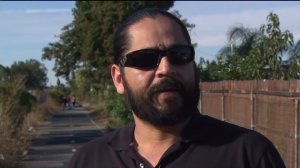 "The other one said, 'No, it sounds like a baby crying,'" Flores recounted. "She was very curious. She saw these pieces of wood and rocks on top of it. She removed them and she found a newborn baby."
Flores and the two women immediately called authorities and reported the discovery, he said.
"It's an angel saving another angel," Flores added.
Parents of newborns who decide they cannot care for the baby can surrender him or her to any hospital or fire station in Los Angeles County, no questions asked, the Sheriff's Department stated.
"Some parents of newborns can find themselves in difficult circumstances," the news release stated. "Sadly, babies are sometimes harmed or abandoned by parents who feel that they're not ready or able to raise a child, or don't know there are other options."
Detectives investigating the abandonment and endangerment of the newborn girl discovered on Friday asked anyone with information to contact the Sheriff's Department's Special Victims Bureau at 877-710-5273.
Anonymous tippers could call "Crime Stoppers" at 800-222-8477, text the letters TIPLA plus the tip to 274637, or by visit the website http://lacrimestoppers.org.

KTLA's John A. Moreno contributed to this report.