This is an archived article and the information in the article may be outdated. Please look at the time stamp on the story to see when it was last updated.
A Newhall man was sentenced Wednesday to 48 years in state prison for sexually abusing 10 children over 15 years, and his live-in girlfriend received five years formal probation.
Francisco Avendaño, 42, pleaded no contest on July 6 to 12 counts of lewd acts upon a child under 14, two counts of lewd acts on a child 14 years old and one count each of lewd acts upon a child 15 years old and continuous sexual abuse, according to a news release from the Los Angeles County District Attorney's Office.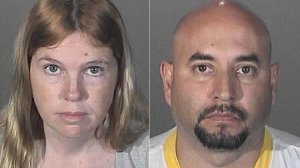 Avendaño's girlfriend Jacqueline Wadsworth, 32, also pleaded no contest to one count of lewd act upon a child under 13, and was sentenced on Aug. 5 to five years formal probation, 52 weeks of sexual compulsion control classes and is subject to a 10-year protective order,  a prosecutor said.
The 10 children were victimized between January 2001 and December 2015. They were family members and family friends of the perpetrators, and were between the ages of 3 and 15 years old when they were abused.
Avendaño and Wadsworth are required to register as sex offenders for the rest of their lives.