This is an archived article and the information in the article may be outdated. Please look at the time stamp on the story to see when it was last updated.
Eleven people were injured, five critically, Saturday night in a chain-reaction crash involving three vehicles in the Valencia area of Santa Clarita, authorities said.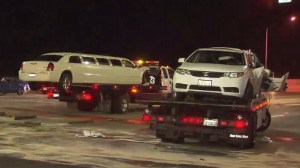 The collision was reported at 8:17 p.m. on Highway 126, near the 5 Freeway, said Supervisor Michael Pittman of the Los Angeles County Fire Department.
A limousine and two other vehicles were involved in the crash, according to an incident report on a California Highway Patrol website.
A preliminary investigation indicated "the limo driver was trying to stop because another vehicle had stopped in front of him," Sgt. Brian Allen of the Los Angeles County Sheriff's Department said in an interview at the scene. "He was unable to brake. There's a lot of weight in those stretch limos. He skidded into the car in front of him, causing that to go out of control."
The car then slammed into a third vehicle, the sergeant said.
Ten people were inside the limousine at the time, including the driver, according to Allen. The other two vehicles were each occupied by one person.
Eleven people were transported to hospitals, five of whom were in critical condition, the Sheriff's Department said. The nature of their injuries was not immediately known.
Eastbound Newhall Ranch Road was reopened at the 5 Freeway after a temporary closure.
No citations or arrests were announced. The collision is under investigation.
Correction: An earlier version of this story incorrectly stated the collision happened in the Newhall area of Santa Clarita. In fact, the crash was in the Valencia area of Santa Clarita. The story has been updated.