This is an archived article and the information in the article may be outdated. Please look at the time stamp on the story to see when it was last updated.
A Newhall father who was alleged to have killed his 19-day-old daughter before hiding her body and claiming she had been kidnapped pleaded no contest on Wednesday, the Los Angeles County District Attorney's Office announced.
Matthew Warner, 30, entered the plea on a first-degree murder charge, the DA's office said in a news release.
Warner was accused of killing his daughter Ellorah Rose Warner on Jan. 23 while the baby's mother was working, according to prosecutors. Initially, the DA's office stated the girl had been drowned, but they later issued a correction saying she had died from blunt force trauma.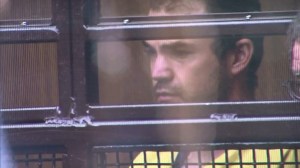 After the girl died, Warner led authorities to the newborn's body, which had been wrapped in towels and bags, and was discovered in the cab of a pickup truck, the release stated.
In addition to murder, he had also been charged earlier for assault on a child causing death, torture, oral copulation or sexual penetration with a child 10 years or younger, and aggravated sexual assault of a child, according to the DA's Office.
Warner is expected to be sentenced to 50-years-to-life in state prison when he appears in court at a hearing scheduled for Oct. 6, prosecutors said.