This is an archived article and the information in the article may be outdated. Please look at the time stamp on the story to see when it was last updated.
A 30-year-old Newhall man arrested on suspicion of killing his 19-day-old infant daughter also allegedly sexually assaulted her, prosecutors said in announcing charges against him Tuesday.
Matthew Brendan Warner was taken into custody Saturday morning, less than 12 hours after his daughter was reported missing from home where he and his girlfriend live.
After a large-scale search operation, the baby's father provided information that led investigators to the baby's body, Los Angeles County Sheriff's Department officials said.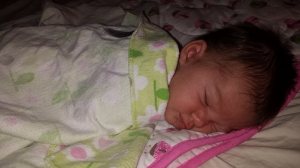 The girl, identified as Ellorah Rose Warner, was found in the front cab of a pickup truck.
Matthew Warner was charged with murder, assault on a child causing death, torture, oral copulation or sexual penetration with a child 10 years or younger, and aggravated sexual assault of a child, according to the Los Angeles County District Attorney's Office.
Just hours after the charges were announced, dozens of people gathered at a candlelight vigil for the baby at Old Orchard Park in Newhall.
The crowd included family members, friends and complete strangers who wanted to show their support for the child and her mother.
"It's beyond words," said Canyon Country resident Michael Cruz. "I'm a parent and I can't imagine the pain that she's going through."
At the vigil, the infant's mother, Tawni Wallis, and Warner's mother, Victoria Law Thomson, embraced.
Thomson said she didn't understand how this could have happened.
"That's something like a parent's worse nightmare that someone in the human race could behave so inhumanely with no regard … and to someone just barely three weeks," Thomson said. "I don't get it."
The alleged sexual assault and murder occurred Friday, according to the felony complaint.
Before the search for the child began, neighbors said they had seen Matthew Warner walk outside the couple's home carrying a bundle while the baby's mother was at work.
The baby was reported missing about 9 p.m. Friday by her parents, who walked into the Los Angeles County Sheriff's Department's Santa Clarita Valley Station to make the report.
The infant was pronounced dead at the scene, in a parking lot about a mile from the couple's home, investigators said. Homicide detectives responded about 7:30 a.m. Saturday.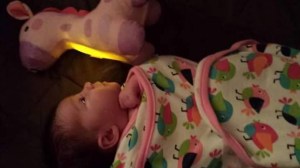 The victim was initially identified as Ellorah Rose Warner by her grandmother, and her identity was confirmed Tuesday by the county coroner's office. The girl's cause of death was not yet available for release, a coroner's official said.
Wearing a yellow jail jumpsuit, Warner appeared in San Fernando Superior Court Tuesday. His arraignment was slated for Tuesday but was postponed until Feb. 18 at the request of his public defender.
Warner said nothing during the brief appearance, but nodded in agreement when asked if he would support his arraignment being moved to the February date.
His bail was set at $2.25 million, and he was being held at the Twin Towers Correctional Facility in downtown Los Angeles.
Thomson said her son was in recovery for a narcotics addiction but had been doing well before his daughter's death.
"He was on top of the world with Ellorah and Tawni," Thomson said.
KTLA's Kennedy Ryan contributed to this story.
More video: