This is an archived article and the information in the article may be outdated. Please look at the time stamp on the story to see when it was last updated.
A man who managed to get away at the end of a slow-speed pursuit and hourslong standoff in Newport Beach, where he held a woman and her two young children against their will the previous evening, was arrested Tuesday night, according to authorities.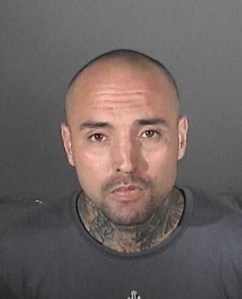 Thomas Ueno, 35, was arrested around 7 p.m. while walking in the 17800 block of Kensington Avenue in Cerritos after a daylong search, said Deputy Sara Rodriguez with the Los Angeles County Sheriff's Department.
Ueno was being transferred to the Huntington Park Police Department, where he was wanted for allegedly violating a restraining order.
Ueno was identified as the individual who drove a Hummer H3 on various freeways and surface streets for more than an hour Tuesday evening, finally stopping in the area of Pacific Coast Highway and Dover Drive. There, he and the two children and the woman sat in the car for more than three hours.
As the woman and children — ages 1 and 6 — finally got out of the SUV, Ueno ran into a nearby park.
Despite a search, Ueno got away, police said.
A witness who came across the suspect in the park said he heard seven or eight shots ring out.
"The suspect, in a hoodie, comes running up toward me, and says, 'I'm hit, I'm hit. They shot me,'" said Michael Hicks. "I'm in shock. I don't know if he's got a gun."
The man fled and Hicks showed police where he had jumped over a fence, Hicks said.
Newport Beach residents in the Dover Shores community were urged to remain in their homes until nearly noon Wednesday, and then local police asked them to "remain vigilant."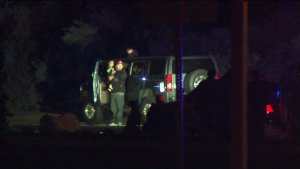 Ueno was described as a Hispanic man wearing a black hoodie, dark-blue pants and red baseball cap.  He is 5 feet 7 inches tall, 175 pounds, with brown hair but a shaved head, brown eyes, and multiple tattoos on his neck and arms, police said.
"The suspect should be considered armed and dangerous as he has been known to be in possession of firearms," Huntington Park police said in a news release.
Anyone who sees Ueno should call 911, police said.
Ueno became the subject of a Huntington Park Police Department investigation in January, that department said Wednesday. The victim in a domestic violence case had filed a restraining order against Ueno, but he had made numerous attempts to contact her, according to police.
Then, on Monday, the victim messaged a detective on the case, saying Ueno was with her, and investigators learned she was being held against her will. She was thought to be in Buena Park, and police there began searching for her and the Hummer, described as the "suspect vehicle."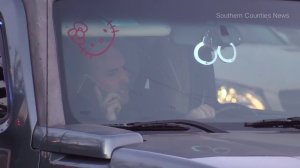 Buena Park police found the SUV and tried a "high-risk stop," but the driver refused to pull over. Shortly before 5 p.m., the pursuit began.
More than an hour later, the Hummer stopped near Pacific Coast Highway and Jamboree Road in Newport Beach. For hours, the vehicle remained parked, and the driver could be seen talking on the phone, crying and getting in and out of the vehicle
One of the children was spotted looking out of the Hummer's sunroof.
Crisis negotiations with Ueno proved unsuccessful.
As the woman and her children exited the SUV, Ueno ran up a hillside and into dark Castaways Park. Officers spotted him on a trail at one point, but he disappeared.