This is an archived article and the information in the article may be outdated. Please look at the time stamp on the story to see when it was last updated.
A news cameraman helped save a man from a fiery crash on a freeway in downtown Los Angeles on New Year's Eve night.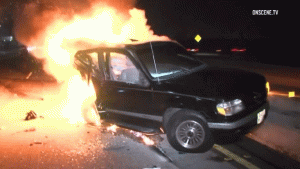 Photographer Austin Raishbrook, who spends his nights covering crime scenes and accidents, found himself in a life and death scenario on Saturday night on the side of the 110 Freeway.
Raishbrook pulled out his camera to record a dark colored SUV that was stalled in the fast lane and watched as it got side-swiped by two cars.
That's when Raishbrook said he heard something that sounded like an explosion.
Another car slammed into the SUV, prompting Raishbrook to drop his camera and take action.
"I could actually see the driver slumped over the steering wheel...I was met with heavy flames and smoke. I reached in and pulled him through, but I couldn't do it," Raishbrook told KTLA.
He reached into the SUV and tried again.
"I manage to wrestle his waist out of the lower belt and pull him free. It was quite an experience," Raishbrook added.
The man was taken to a local hospital by paramedics, and although originally listed in critical condition, Raishbrook said he is now awake and responsive.
Raishbrook suffered minor injuries from the dramatic rescue.