This is an archived article and the information in the article may be outdated. Please look at the time stamp on the story to see when it was last updated.
The NFL released the 2016 schedule Thursday, and now Southern California fans know when they'll get a chance to see their newly returned team play at home.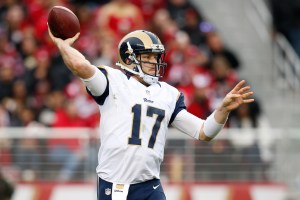 The Los Angeles Rams will play their first regular-season game on Monday, Sept. 12, against the San Francisco 49ers at Levi's Stadium in Santa Clara.
The first home game — at Los Angeles Memorial Coliseum — will take place Sept. 18 against the Seattle Seahawks.
That will mark the team's first regular-season home game in L.A. in 21 seasons.
Rams pre-season games were listed as: Dallas Cowboys on Aug. 13 and Kansas City Chiefs on Aug. 20, both at home; and away, Denver Broncos on Aug. 27, and Minnesota Vikings on Sept. 1.
The Rams posted their full schedule on Twitter.
Review all the #Rams matchups here! 📰 | https://t.co/rlOlhOHqM3 pic.twitter.com/TcwL1Z1DVd

— Los Angeles Rams (@RamsNFL) April 15, 2016
Los Angeles Rams Football is back! 📺 https://t.co/a40VNx9yLh pic.twitter.com/qzyyb55OdS

— Los Angeles Rams (@RamsNFL) April 15, 2016
Here's a full rundown of the first week's NFL games:
See the full 2016 schedule on NFL.com.