This is an archived article and the information in the article may be outdated. Please look at the time stamp on the story to see when it was last updated.
Nicole Eggert has taken her sexual assault allegations against Scott Baio to morning television.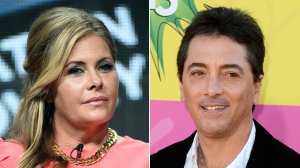 The "Charles in Charge" alum appeared on NBC News' "Megyn Kelly Today" on Tuesday to share her sexual assault allegations against her former costar, who she alleges began molesting her when she was 14.
Eggert, 46, said she previously lied about the nature of their relationship and became "really good at covering up" what happened to her.
Baio, 57, who was in his 20s when he played Eggert's nanny on the 1980s sitcom, denied her story and accused Eggert of damaging his reputation. He called her allegations "100% lies" before issuing a full rebuttal on his Facebook page on Sunday.
Read the full story on LATimes.com.