This is an archived article and the information in the article may be outdated. Please look at the time stamp on the story to see when it was last updated.
A flight described by one passenger as a "nightmare" finally reached LAX Thursday morning after nearly 20 hours and multiple stops.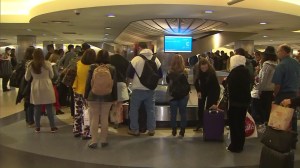 American Airlines Flight 295 from Miami to Los Angeles took off at 9:45 a.m. EST Wednesday for what was expected to be about a five-hour flight, but then things started to go wrong.
"There was a noise and then we were told later that one of the engines went out and they had to land in Texas," traveler Evelyn Albert said.
The aircraft, with 186 passengers and a crew of six was diverted to Lubbock, Texas due to a mechanical issue, Leslie Scott with American Airlines confirmed.
Another traveler, who was in the back of the plane with a flight attendant said he saw smoke in the cockpit, then went back to his seat after the flight attendant called the captain. "I was gagging a little bit on the smoke … it was crazy," Gabriel Larios said.
A replacement aircraft was flown to Lubbock, but the flight made another stop in Dallas for more fuel, Scott said.
"It was a nightmare that you can't believe," traveler Tom Danluck said.
"We weren't given any information. I think that was part of the problem," Albert said.
Nearly 20 hours after departing from Miami, Flight 295 finally landed at Los Angeles International Airport at about 2:15 a.m. PST.
"We appreciate that we got here … to our destination, but we're 15 hours late," Johnathan Himebauch said following the flight.
Scott apologized on behalf of American Airlines for the inconvenience.
"Thank God we're here," Tom Danluck said.