This is an archived article and the information in the article may be outdated. Please look at the time stamp on the story to see when it was last updated.
The missing father of an infant found dead behind a mortuary in Bellflower has been named as a person of interest in the case, Sacramento County officials said Tuesday.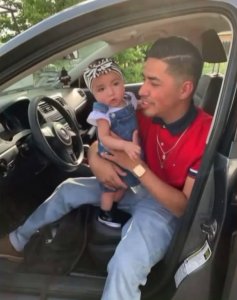 Investigators believe Alexia Rose Echeverria died in Sacramento before a worker found her body behind Funeraria del Angel on Monday morning, according to the Los Angeles County Sheriff's Department. The baby had
been reported missing
with her father, 22-year-old Alexander Echeverria of south Sacramento. L.A. County officials initially described the father as being 30 years old before the information was updated. The Sacramento County Sheriff's Department later became involved in the investigation after L.A. County detectives connected the discovery of the deceased infant to the missing persons' case. Officials said Alexander Echeverria was last seen in Southern California on Monday morning, and that he had been reported missing that day by family members in the Bellflower area. L.A. County officials previously said the two were last seen in Bellflower on Friday night, noting that the father was "depressed" and that his family was concerned for his well-being. "He is considered at-risk due to suicidal statements made to family members recently," the Sheriff's Department said. The agency is working with local and federal authorities to find him. Alexia's mother, Karla Alvarado, told
KTLA sister station KTXL
in Sacramento that she last saw Echeverria on Sunday in Sacramento, before he said he was taking the baby to Bakersfield. "Sunday morning he dropped me off at work at 11 a.m., and then an hour later we Facetimed," she said. "It's the last time I saw her."
Then Monday, Alvarado says Echeverria called his brother to say his daughter died in an accident. "He told him that he was playing with her — throwing her up — and he slipped, and she fell. And she wasn't waking up," Alvarado said. "He said he got scared and he drove to the hospital, but he never went in because he thought that nobody was going to believe him that it was an accident." Alvarado said Echeverria did not contact her directly about their daughter's death. "He should have told me this happened and faced the consequences," she said. "If he had to go to jail, then deal with it. But my baby didn't have to go through all that." The father had told Alvarado he and their baby would be back in Sacramento Monday morning, but they never showed up. "I just can't believe that he would just leave her there," Alvarado told KTXL. "She wasn't trash, she wasn't a doll. She was my little girl." Deputies responded to Funeraria del Angel just after 10 a.m. Monday after a worker called 911. The caller was cleaning up the ground behind the building when the worker saw a baby upright in a car seat that was covered by a blanket, Detective Steve Blagg told reporters hours after the discovery. Alvarado said her life has been shattered.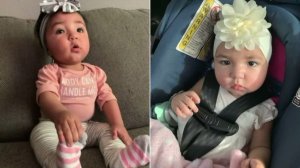 "She was so perfect," she said of Alexia. "She was already calling me 'mama.' She was clapping. I was trying to teach her how to crawl." The infant's cause of death and how long the body had been in the alley remains unclear, but Blagg said authorities saw no immediate signs of trauma. Investigators were speaking to possible family members, the detective said on Monday. Echeverria was driving a gray 2014 Volkswagen Jetta with the California license plate 7FFT866, the Sheriff's Department said. Authorities described him as 5 feet, 6 inches tall and 160 pounds with brown hair and brown eyes. Anyone with information about Echeverria's whereabouts is asked to call the Sacramento County Sheriff's Office at 916- 874-5115 or Sacramento Valley Crime Stoppers at 916-443-4357.
KTLA's Erika Martin contributed to this report.