This is an archived article and the information in the article may be outdated. Please look at the time stamp on the story to see when it was last updated.
A multistory parking garage under construction in downtown Los Angeles collapsed Friday morning, but no one was injured, authorities said.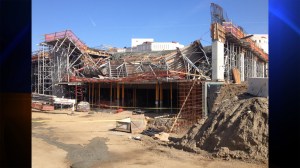 The "construction failure" occurred at 8:50 a.m. at Metro's Division 13, not far from the Los Angeles County Metropolitan Transportation Authority's headquarters at Union Station, Metro stated in a blog post.
The three-story structure is intended to be a new bus operating division and has been under construction since 2012, according to a post on Metro's blog The Source.
Workers were pouring concrete when they noticed "something was amiss" and cleared the area, according to the post.
All 180 workers on site had cleared the area when the top level collapsed, according to the post.
Work on the project — at the northeast corner of East Cesar Chavez Avenue and Vignes Street (map) — will be halted until an investigation is completed, Metro stated.