This is an archived article and the information in the article may be outdated. Please look at the time stamp on the story to see when it was last updated.
A female English as a second language teacher who works at the Men's Central Jail in Santa Ana is among more than 10 people arrested in connection with the escape of three Orange County inmates, authorities announced Thursday.
Nooshafarin Ravaghi, 44, of Lake Forest, was arrested Thursday afternoon and was believed to have provided "critical planning tools," Orange County Sheriff's Department spokesman Lt. Jeff Hallock said at a news conference.
Ravaghi is a contract ESL teacher for the Rancho Santiago Community College District, and has worked at the Men's Central Jail since July 2015, he said.
Hossein Nayeri, believed to have led the escape effort,  attended her ESL classes, Hallock said. Their student-teacher relationship developed into a "closer relationship," he said.
Authorities were not sure if the pair had a physical relationship.
"She's denying having brought the tools, but what we do know is she provided Google maps, those types of things, to prepare for the escape," Hallock said.
Authorities initially gave a different spelling for Ravaghi's first name.
The three escapees may be driving a 2008 white GMC Savana utility van that was reported stolen at 4:40 p.m. Saturday, Jan. 23, from South Los Angeles. The van has a green or yellow Felix Chevrolet license plate, No. 8U66466, which may have been removed.
One of the escapees, 43-year-old Bac Duong, took the vehicle for a test drive and then drove off with the van, Hallock said. It had been for sale by a private party, and Duong responded to an ad.
Anyone who sees the vehicle should call 911 immediately.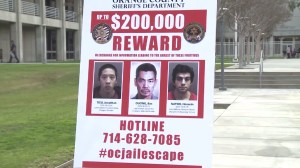 Authorities still "feel very strongly" that the Duong, Nayeri and the third escapee, 20-year-old Jonathan Tieu, are still in Southern California and likely together, Hallock said. They are considered armed and dangerous.
An updated photo of 37-year-old Nayeri was released late Thursday morning in a tweet from the Orange County Sheriff's Department. New photos of another missing inmate were released Wednesday afternoon.
A county prosecutor initially described Nayeri as "diabolical" to the Orange County Register, saying her reaction to his escape was "Oh, my God, they let Hannibal Lecter out."
District Attorney Tony Rackauckas later said the statement were inappropriate and unauthorized.
Nayeri is facing charges including kidnapping, aggravated mayhem and torture in a 2012 case in which he and two other men were accused of burning a man with a blowtorch, cutting the victim's penis off and pouring bleach on him, authorities said. The victim was dumped in the desert and left to die.
Along with Tieu and Duong, Nayeri was charged Monday with charged with one felony count each of escape from pending felony charges.
An updated photo of Duong, including his tattoos, was released Wednesday afternoon, when Sheriff Sandra Hutchens announced the first arrests in connection with the jail escape.
The arrestees' names were not being released because it could compromise the investigation, Hallock said.
Investigators were focusing on a Vietnamese gang active in Westminster and Garden Grove, Hutchens said Wednesday.
The trio was last seen in the jail on the morning of Friday, Jan. 22, and their escape was not discovered till about 16 hours later.
No tools that were used to cut through metal and rebar have been found, but Hallock said two pieces of evidence have been recovered: a makeshift rope found on the jail's roof, and a jail-issued blanket found in the ground-level courtyard.
"My major concern is: Where did those tools come from, and how did they get into the jail?" Hutchens said in an interview at the jail Thursday. "Because absent that, they would not have escaped."
Hutchens said she didn't believe the tools came from inside the jail, but said that was still under investigation.
The trio accessed the jail's roof after getting into a plumbing tunnel. The razor wire on the roof was "compromised," Hallock said.
"It's our belief, based on the preliminary investigation, that the inmates made it up to this area, compromised this razor wire, and rappelled down to the ground from here," Hallock said atop the roof. "We're about six stories up."
A $200,000 reward was being offered by the Orange County Board of Supervisors for information leading to the inmates' arrest.
https://www.facebook.com/ktla5/?target_post=10153982664629614
Stolen Vehicle ACTUAL 2008 White GMC Savana Utility Lic: 8U66466 plates/stickers may have been removed pic.twitter.com/MASIlWnYxe

— OC Sheriff, CA (@OCSheriff) January 29, 2016