This is an archived article and the information in the article may be outdated. Please look at the time stamp on the story to see when it was last updated.
There was no sign of a struggle in the disappearance of a woman from an apartment complex near Cal State San Bernardino earlier this week, police said Wednesday.
Sahray Barber, 22, has been missing since Monday morning, when she was expected to take a bus to her job at The Art Institute, but never showed up.
Several of Barber's belongings were found in some bushes near the front gate of her apartment building in the 1500 block of West Northpark Boulevard (map), but there did not appear to be any indication of a struggle, according to Lt. Rich Lawhead of the San Bernardino Police Department.
No one has come forward to say they heard or saw anything, Lawhead said.
Some of Barber's belongings were found in some bushes inside the complex and appeared to have been  "almost placed" there, which raised a red flag with investigators, Lawhead said.
"If you were in a struggle or if somebody had kidnapped you … they would throw it in there … they wouldn't leave it … that's a red flag for us," Lawhead said.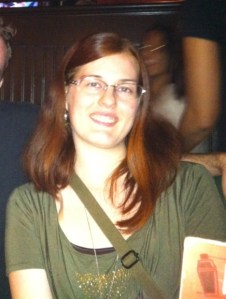 Investigators were hoping that information found on Barber's computer and a cellphone would provide clues about her disappearance.
"We're looking for all the contacts on there … who she commonly contacts, who she talks to," Lawhead said.
Barber would normally commute to the school by either taking the bus or getting a ride from her roommate, San Bernardino Police Chief Jarrod Burguan stated in a YouTube message calling for the public's help in the investigation.
On the day she disappeared, Barber was expected to take the bus, but it was unclear if she ever even walked out of the complex.
"We tracked just to the gate area there, and then it appears she either got into a car or something else and left the location," Lawhead said.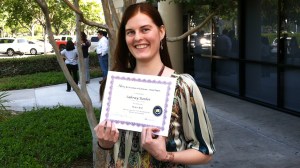 Investigators have been in touch with a man who was reported to have been a boyfriend or ex-boyfriend of Barber.
"The boyfriend, either it's a current boyfriend or an ex-boyfriend, has been very cooperative … we've been able to have access to his residence, access to his vehicles … he's made himself very available to us," Lawhead said.
Investigators have not determined if foul play was involved or if the disappearance had anything to do with a recent string of crimes at Cal State San Bernardino, which is just across the street from Barber's apartment.
One woman escaped an attempted kidnapping and another reported a sexual assault on campus in the past week.
CSUSB police released a sketch of the attacker Wednesday.
He was described as a Hispanic male, 19 to 21 years of age, about 5 feet 8 inches tall with black curly hair.
"There's nothing that gives us any belief that it is connected or isn't connected," Lawhead said.
The police department has added security to the campus to assist the Cal State Police Department, according to Lawhead.
Anyone with information about Barber's disappearance was asked to contact the San Bernardino Police Department at 909-384-5742.
More video: