This is an archived article and the information in the article may be outdated. Please look at the time stamp on the story to see when it was last updated.
Nohemi Gonzalez, who was killed in the terrorist attacks in Paris and was 2010 graduate of Whittier High School, was honored Tuesday at a candlelight vigil on the campus front lawn.
Friends, former classmates and teachers were among the crowd of more than 100 people who gathered at the school.
Gonzalez was remembered as a "spunky" and "vibrant" young woman, whose "life was taken tragically and too suddenly."
The 23-year-old Cal State Long Beach student was studying at the Strate College of Design in Paris when she was fatally shot at a restaurant in the French capital.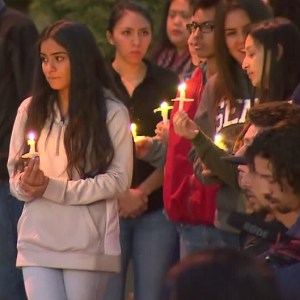 The memorial at Whittier High was announced Saturday on the school's Twitter account. It came two days after hundreds gathered at Cal State Long Beach to remember Gonzalez.
That school "may be a large, urban university, located in a big city, but when we lose a member of our campus community it affects us all," Dr. Carmen Taylor, vice president of student affairs, told the standing-room-only crowd Sunday in the University Student Union building.
Nohemi Gonzalez's cousin, Ellie Gonzalez was tearful as she stood at a podium in front of the flags of France, the United States and California.
"This is really a big shock. I don't believe it's real, that this happened," she said. "I'm going to miss her and I love her so much."
Professor Martin Herman, chair of the school's Department of Design, described his hope for his departed student's legacy.
"May Nohemi's voice, her bright spirit, her playfulness, her idealism, hopes continue to inspire and illuminate our university family and all those that she touched," he said.
WHS hosting Candle-Light Vigil for passing of 2010 Alum Nohemi Gonzalez Tues 11/17 4:30pm Front Lawn Whittier High. pic.twitter.com/pA5MozK7Qk

— Whittier High School (@whittierhs) November 15, 2015