This is an archived article and the information in the article may be outdated. Please look at the time stamp on the story to see when it was last updated.
Operation Gratitude, a nonprofit organization that supports military veterans and active-duty personnel, celebrated the assembly of its one-millionth care package on Saturday in Van Nuys.
Under a large tent adjacent to the California Army National Guard Amory, thousands of volunteers, supporters and servicemen and women gathered to celebrate the milestone, which organizers said was 10 years in the making.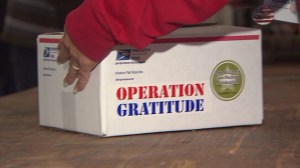 Operation Gratitude sends more than 100,000 of the care packages annually to U.S. military personnel stationed overseas, veterans and first responders, the nonprofit said.
Each shipment contains snacks, hand-made items and personal letters of appreciation. The donated products are valued at $75-$100, and are assembled and shipped at a cost of $15.
"We put in an assortment of items — snack foods, energy bars, trail mix, hygiene products, entertainment items — but then the really special things like the personal letters that are written by children all over the country, and the hand-made scarves," said Carolyn Blashek, who founded Operation Gratitude in her living room in 2003.
The nonprofit announced that the recipient of the one-millionth package will receive a Ford F-150 pickup truck donated by 5-Hour Energy. The overseas delivery, containing symbolic keys to the truck and certificates for other gifts, will be revealed next week through social media and traditional media, officials said.