This is an archived article and the information in the article may be outdated. Please look at the time stamp on the story to see when it was last updated.
When California water officials assess the drought, the first place they look is the northern Sierra Nevada mountains.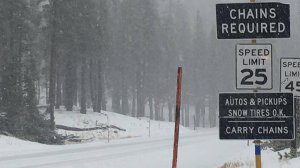 Rain and snowmelt from the area feed into a complex system of rivers, canals and reservoirs that send water across the state. And by almost all measures, the drought picture in Northern California has dramatically improved over the last two months, as a series of storms have helped replenish the state's two major water projects. So far this season, rain levels in the northern Sierra are 180% of average, with 23.5 inches of rain falling — and more on the way this week.
But the story is more grim in Southern California, which remains historically dry. Now water officials must figure out how to deal with the disparity and its implications for managing the drought. While Southern California still gets some water from the Sierra, about 50% of its supply comes from local sources such as groundwater and reservoirs.
"California is a big place. It has different droughts in different parts," said Jay Lund, a professor of civil and environmental engineering at UC Davis who studies water in California. "We certainly saw that last year … and we're likely to see that again."
Click here to read the full story on LATimes.com.