This is an archived article and the information in the article may be outdated. Please look at the time stamp on the story to see when it was last updated.
A Northern California teen was arrested on suspicion of credit card fraud and possessing stolen property after he was pulled over in a $240,000 sports car in Sonoma County, authorities said.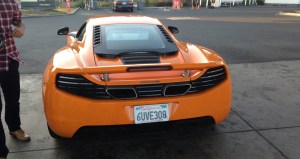 The teen, identified as 19-year-old Mohannad Halaweh of Rohnert Park, was pulled over Wednesday evening by a deputy who spotted the allegedly stolen 2012 McLaren while patrolling the Roseland area near Santa Rosa, according to a news release from the Sonoma County Sheriff's Department.
A passenger in the vehicle, 19-year-old Nhimia Kahsay of Santa Rosa, was also arrested, the release stated.
Detectives investigating the incident discovered that a credit card number had been fraudulently obtained to rent the sports car, as well as a $12 million vacation home in Glen Ellen two days prior to the arrest, according to the Sheriff's Department.
The fraudulent charges were estimated at $13,000 for the vehicle and $27,000 for the rental property, according to the release.
Halaweh was booked into jail on suspicion of possession of stolen property and credit card fraud charges, the release stated. He was being held on $100,000 bail.
Kahsay was booked for outstanding fraud warrants, according to the release. His bail was set at $60,000.
Halaweh was scheduled to appear in court on Monday, the Los Angeles Times reported.