This is an archived article and the information in the article may be outdated. Please look at the time stamp on the story to see when it was last updated.
Parents faced an agonizing delay and some confusion in San Bernardino Monday as they waited to be reunited with children who were evacuated from North Park Elementary School after a murder-suicide on campus that left two adults and a student dead and another student critically injured.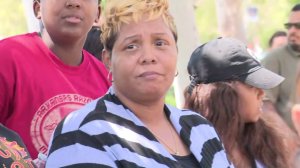 Parents headed to Cajon High School, at 1200 West Hill Drive, where students were eventually bused and released. The students were greeted by cheers, high-fives and hugs when they arrived.
"That sense of relief, that she's OK, there's nothing like it," mother Flora Murillo said.
Kindergarteners were reunited with parents first, and then the remaining students were released by increasing grade level, a San Bernardino Police Department official said.
The reunions took place after hours of waiting and uncertainty about where parents could find their children.
At one point, authorities had indicated that North Park students were being taken to the campus of nearby California State University San Bernardino, leading to confusion about where guardians should go.
The university said the elementary students were being taken to PE Building 100. Parents and guardians were told to check in — with photo identification — at Cajon High, and they would then be escorted to the university campus to be reunited with their students, the university said. That information later changed when updates were provided by the school district and police.
Parents of ALL victims have been notified. Other students are being fed at evacuation center and we will start reunifying at CajonHS ASAP.

— SBCUSD OES (@SBCUSD_OES) April 10, 2017
Parents who went to the university campus were frustrated Monday afternoon as they waited. One woman who was waiting to pick up her nephew said she had been to all three campuses.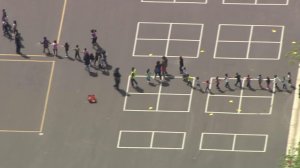 "We went from North Park to Cajon High School, and then back over here, and we have to go back to Cajon High School," said the woman, who gave her name as Jennifer. "So, for the parents that haven't seen their kids, it's very, very sad."
At Cajon High, another woman waiting for a student told KTLA that school police were directing North Park parents to the west side of campus by the football field. She said she was told it would be a three-hour wait before she could get her fifth-grader niece.
The woman said she was able to pick up both of her high-schoolers, who go to Cajon High.
San Bernardino Police Department Chief Jarrod Burguan sought to clarify the confusion on Twitter, directing parents to the high school but saying children were taken to the university.
North Park ES students are being taken to Cal State San Bernardino. Parents/Guardians MUST report to Cajon HS to verify ID to pick up child.

— SBCUSD OES (@SBCUSD_OES) April 10, 2017
Then, at a news conference about 12:45 p.m., school district Superintendent Dale Marsden again sought to explain, asking for patience. He said parent-child reunions will take place at Cajon High.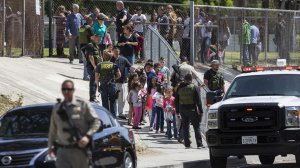 "We're asking all parents to go to Cajon High School, and that is where they will be reunited with their students. If they go anywhere else, it will be very difficult to release their child properly," said "Their patience with the process will be helpful."
It could take three hours before parents could be reunited with children, the Police Department and the school district warned at 12:22 p.m.
Marsden said some students may need to be interviewed by investigators, which could contribute to the delay.
Parents bring ID to be reunited with children at Cajon High School. Please be patient as it may be about 3 hours before students released.

— San Bernardino PD (@SanBernardinoPD) April 10, 2017
Parents with questions about picking up their children are asked to call the school district office at 909-381-1100.
The elementary school, the high school and the university are all located within a mile along Northpark Boulevard West.
The shooting left a teacher dead and two students hospitalized in critical condition at local trauma centers. One of the boys later died. The gunman fatally shot himself, according to police.
The North Park campus will be closed for at least two days amid the investigation, Marsden said.
"This is a tragic event. It's going to take time for our heads, our hearts to heal, and our patience with each other," he said. "We need each other to walk hand in hand, to heal."
North Park Elementary School had 531 students in the 2015-16 school year, the most recent year for which state enrollment data is available.
This slideshow requires JavaScript.