This is an archived article and the information in the article may be outdated. Please look at the time stamp on the story to see when it was last updated.
A big rig plunged from an overpass in the Pacoima area Tuesday, forcing the closure of the northbound 5 Freeway for nearly seven hours.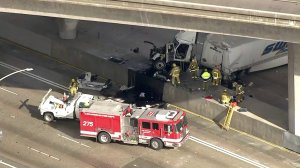 The crash was reported just before 10 a.m. after the truck fell from the westbound 118 Freeway interchange, according to the California Highway Patrol's incident log.
All northbound lanes of the 5 Freeway were closed through the Paxton Street area as a result, as well as the 118 Freeway overpass. Some commuters in the area became trapped for about an hour before traffic was able to be diverted off the freeway.
Motorists were asked to use the westbound 210 Freeway to northbound 5 Freeway, eastbound 118 Freeway to westbound 210 Freeway, or eastbound Highway 126 to the 5 Freeway.
Lanes on the 5 Freeway reopened shortly before 5 p.m, according to Caltrans.
Part of the concrete barrier on the overpass was knocked away by the impact, scattering a significant amount of debris across the roadway. Some oil had also spilled, according to the CHP incident summary.
The big rig came to rest lying perpendicular across the northbound 5 Freeway lanes, aerial video of the scene showed. CHP said the driver was conscious when authorities responded.
Officials did not say what could have caused the truck to plunge or whether Tuesday's stormy conditions could have contributed. Several roads in the region were closed Tuesday amid heavy flooding and mudslides.
NB I-5 Fwy all lanes closed at 118 Freeway due to jackknifed big rig. pic.twitter.com/ABQsrMt8nF

— Caltrans District 7 (@CaltransDist7) January 9, 2018
Crews working to repair damage on northbound I-5 at State Route 118 after a big rig jackknifed All I-5 NB lanes closed, as well as eastbound 118/northbound I-5 connector. Take EB 118 to WB 210 or WB I210 to NB I-5 as alternates pic.twitter.com/bQnyxIJygH

— Caltrans District 7 (@CaltransDist7) January 9, 2018