This is an archived article and the information in the article may be outdated. Please look at the time stamp on the story to see when it was last updated.
The northbound 710 Freeway was shut down for hours Wednesday evening following a deadly, single-vehicle crash, authorities said.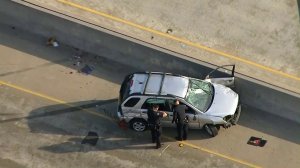 Police were first called to the scene, near the 7th Street on-ramp, just after 4:45 p.m., said Long Beach Police Sgt. Bradley Johnson.
Responding officers found a sole vehicle that had overturned, and its lone occupant ejected, Johnson said. The vehicle involved was a 2009 Kia SUV, the Department of Motor Vehicles confirmed.
Footage from the scene showed the vehicle had run into a concrete median separating the two sides of the freeway. A bloody body covered in a white sheet lay two lanes away.
The driver, a 39-year-old man, was pronounced dead once paramedics arrived at the scene around 4:50 p.m., according to Capt. Jack Crabtree with the Long Beach Fire Department.
Officials are now investigating what led up to the crash.
It was expected to have a major impact on traffic, Johnson said.
All northbound lanes of the freeway south of Seventh Street had been closed until 9 p.m., according to police.
No further details were available.
KTLA's Matt Phillips contributed to this report.