This is an archived article and the information in the article may be outdated. Please look at the time stamp on the story to see when it was last updated.
A Northern California strawberry grower has been fined $2.4 million and ordered to repay kickbacks and rent he demanded from Mexican workers he hired under a federal visa program for agricultural employees,  according to the U.S. Department of Labor.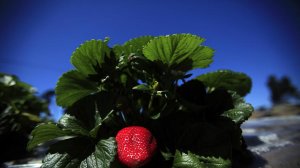 Gonzalo Fernandez, who operated Fernandez Farms Inc. on about 50 acres  southeast of Watsonville, demanded payments of more than $1,600 apiece from several hundred foreign workers over two picking seasons as reimbursement for transportation and other costs of bringing the laborers from villages in Mexico, according to a decision issued last week by Administrative Law Judge Richard Clark.
Under the federally supervised H-2A work visa program, which was designed to help offset seasonal shortages of domestic workers, employers must pay all of those costs and provide free housing.
"If you really need foreign workers, this is a cost you should be bearing," said Abigail Daquiz, senior trial attorney in the Labor Department's Seattle office, who worked on the case. "We're finding that in lots of different ways, employees are having to pay that back, being forced to kick it back.
Click here to read the full story on LATimes.com.