This is an archived article and the information in the article may be outdated. Please look at the time stamp on the story to see when it was last updated.
A high school student in Norwalk claims he was recorded on two different occasions as he used the school's bathroom and the images were posted online.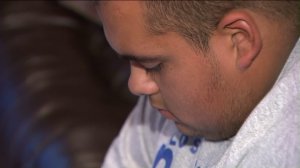 "People took ... a picture of me using the restroom. I'm just sad," Jose Gutierrez Jr., 16, told KTLA on Monday.
Gutierrez said he was embarrassed and dreads returning to class after what he described as bullying incidents at John Glenn High School.
"It was shared on Snapchat first, then people screen-shot it and people started posting it on group messages on Kik," Gutierrez said.
The first incident happened in February, according to Gutierrez, who said that one student got expelled as a result, but no such action was taken when the same thing happened to him in March.
"The second time around, they couldn't do nothing," Gutierrez said.
Gutierrez's father took him to talk to Norwalk-La Mirada Unified School District officials and the Sheriff's Department.
"They really didn't care," Jose Gutierrez Sr. said.
Gutierrez Jr., who said his grades have suffered after missing school lately, wants to transfer to another school in the Los Angeles area near his grandmother's house.
The school's principal, Greg Puccia, spoke to KTLA Tuesday morning and said the district takes these types of incidents very seriously.
"This is not just a local problem, it's a national problem, as far as social media," Puccia said.
He said the "follow-up incident was dealt with immediately and swiftly" but, due to confidentiality requirements, could not comment on any punishment the students or students may have received.
He also said the school district has a "very clear and concise anti-bullying policy," but punishments do vary from student to student depending on the incident.
The school district had yet to make a statement as of Tuesday morning.