This is an archived article and the information in the article may be outdated. Please look at the time stamp on the story to see when it was last updated.
A few hundred protesters assembled outside the InterContinental Los Angeles Downtown Hotel on Tuesday night as they awaited the expected arrival of President Trump, who attended a fundraiser in Beverly Park earlier in the evening.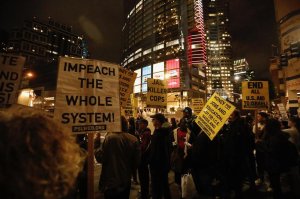 Chants of "Not my president, not my system" echoed down the block as curious bystanders stood nearby.
Tudor Popescu, 38, brought a projector to cast "Oppose Racism. Oppose Trump" in bright lettering on Figueroa Tower across the street from the hotel. Trump has frequently been the target of strongly worded messages projected onto the Washington, D.C., hotel bearing his name.
Popescu, a software engineer, said he spent the day protesting in Beverly Hills and traveled with about 15 other protesters on a bus to downtown L.A.
Protesters and Los Angeles Police Officers stand their ground before President Trump's arrival at the Intercontinental Hotel in #DTLA on March 13, 2018. pic.twitter.com/pBo9Uas7Xo

— Genaro Molina (@GenaroMolina47) March 14, 2018
Protesters make their presence known across the street from the Intercontinental Hotel where President #Trump was staying in #DTLA pic.twitter.com/y2Ye3xjr1n

— Genaro Molina (@GenaroMolina47) March 14, 2018

Read the full story on LATimes.com.