This is an archived article and the information in the article may be outdated. Please look at the time stamp on the story to see when it was last updated.
An 83-year-old woman who claims to be an international jewel thief with a five-decade career was back behind bars Wednesday after allegedly stealing a ring from a jewelry store in Palm Desert.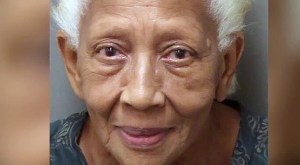 Doris Marie Payne was arrested Tuesday in Pomona on suspicion of felony larceny, according to the Riverside County Sheriff's Department.
Payne was wanted in a jewelry theft that occurred on Oct. 21 at a shop on El Paseo Drive in Palm Desert.
The octogenarian, who is the subject of the documentary, "The Life and Crimes of Doris Payne," has been jailed in several states.
In June 2011 she plead no contest to stealing a $16,000 ring from a Santa Monica store for which she received a sentence of 16 months in prison.
Payne was also found guilty in January 2011 of stealing an $8,900 ring from a San Diego Macy's and was sentenced to 5½ years in prison.
Payne claims to have shoplifted jewelry from New York to Monte Carlo.
Anyone with information on the Palm Desert case was urged to contact Officer Adan Yamaguchi of the Palm Desert Police Department at 760-836-1600.