This is an archived article and the information in the article may be outdated. Please look at the time stamp on the story to see when it was last updated.
Officials continued working Friday to assess and care for dozens of dogs seized from a home in the City of Orange the day before.
Authorities initially reported 136 dogs had been taken from the two-story home in the 3800 block of East Woodbine Road, but said Friday that more than 140 dogs had been seized.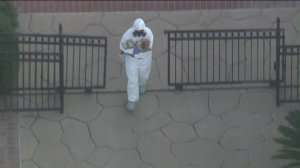 Attorney Edward Reitkopp and Republican political activist Jo Reitkopp, who live at the home, were issued misdemeanor animal cruelty citations after a tip led investigators to their doorstep, Orange Police Department officials said. As the investigation continues, future felony charges are possible.
Orange County Animal Care officials said they were touched by an outpouring of offers to adopt the rescued dogs, but a lengthy legal process awaits before that is possible. But many other dogs are in need of homes at the shelters.
City officials red-tagged the home due to unsafe conditions.
Chip Yost reports from Tustin for the KTLA 5 News on May 31, 2019.