This is an archived article and the information in the article may be outdated. Please look at the time stamp on the story to see when it was last updated.
A 70-year-old nun has died after being struck by a hit-and-run driver near the Boyle Heights church where she served for decades.
Sister Raquel Diaz died Sunday, the Los Angeles Police Department announced Monday.
Diaz was struck a week earlier, on Dec. 13, Winter Street and North Evergreen Avenue, next to Church of Assumption.
Police said a small, white four-door compact car, possibly a Toyota or a Nissan, fled the scene.
The vehicle was initially described as a black truck, but that description changed upon further investigation, according to LAPD.
A priest from Diaz's parish said the intersection is dangerous. Diaz was on her way to church when she was hit.
A $50,000 reward was being offered for information leading the arrest and conviction of the driver who killed Diaz, according to LAPD.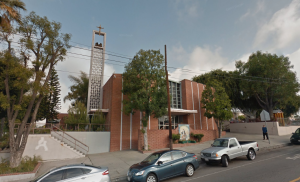 The longtime nun was taken to Los Angeles County-USC Medical Center.
Parishioners prayed "extra" for her, 17-year-old Stephanie Garcia said two days before Diaz died.
Diaz was the director of religious education at the church, where she served for 25 years.
Anyone with information about the crash is asked to call Central Traffic Division detectives at 213-833-3713, Detective Padilla at 213-486-0753 or Officer Robert Cortez at 213-486-0766. Anonymous tipsters may call 800-222-8477, or text to 274637, beginning the message with "LAPD," or click on "webtips" on LAPDOnline.org.