This is an archived article and the information in the article may be outdated. Please look at the time stamp on the story to see when it was last updated.
A nurse from Camarillo is being hailed as a hero after she helped treat a United Airlines pilot who suffered a medical emergency in mid-flight.
Linda Alweiss, along with her husband and 16-year-old daughter, was on her way home from Iowa on Dec. 30 when two chilling announcements were made on the plane's intercom, the first asking if anyone on board had medical training.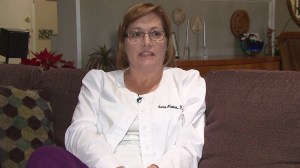 A registered nurse with decades of experience, Alweiss said that when she volunteered to assist, she found the pilot slumped over in the cockpit, mumbling and barely responsive. His heart was beating irregularly, possibly as a result of a heart attack.
Another nurse on the flight, Amy Sorenson, of Wyoming, also responded to the emergency. Sorenson, Alweiss and other passengers pulled the captain out of the cockpit and into the galley.
The nurses set up a diagnostic defibrillator and administered an IV.
After the co-pilot took control of the airplane, a second, more chilling announcement was made: Does anyone in the cabin have flight experience?
"I turned to the co-pilot and I asked her, 'You know how to land the plane, right?' And she said yes," Alweiss said. "I felt immediately comfortable. That was just one thing I didn't have to think about, so I could focus more on what was going on with the patient."
The plane landed safely at an airport in Omaha, where paramedics were waiting to on the tarmac. The pilot survived.
"She did her job," said Alweiss' husband, Alan. "She jumped at the opportunity, didn't hesitate. And she did it at 30,000 feet, knowing that the person who was supposed to be flying the plane was her patient."