This is an archived article and the information in the article may be outdated. Please look at the time stamp on the story to see when it was last updated.
Actor Stephen Collins, perhaps best known as the pastor and father in "7th Heaven," allegedly confessed in a secretly recorded conversation made public Tuesday that he had molested or exposed himself to children, and New York police confirmed they were investigating.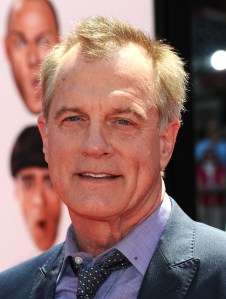 Hours after the recording was posted by celebrity news website TMZ.com early Tuesday, Collins was axed from the movie "Ted 2," in which he had a small role, Entertainment Weekly reported.
Collins also resigned Tuesday from his role on the National Board of the SAG-AFTRA, the powerful entertainers' union, TMZ reported. Collins was not named on the union's online list of board members.
Then, UP TV network announced it was pulling "7th Heaven," which originally ran on The WB and CW from 1997 to 2006, from its programming schedule.
The 3 1/2-minute recording is of a conversation between Collins, his wife Faye Grant and an unnamed therapist over incidents in New York and Los Angeles, according to TMZ.
In the recording, which KTLA has not independently authenticated, Collins discusses exposing himself to three girls in three incidents when they were between the ages of 11 and 13.
"There was one instance where … there was one moment of touching," Collins allegedly said. "I put her hand on my penis."
One of the girls was the niece of a neighbor in Los Angeles, TMZ reported, citing the recording.
During the recorded conversation, there are repeated references to a "disclosure" that details the alleged incidents. That disclosure prompted the therapy session, according to TMZ.
There was a chaotic scene outside Collins' Tarzana home Tuesday evening, when police responded in force after a strange noise was reported by news media. The situation prompted false reports on social media that Collins had killed himself. Collins was at another location and the home was unoccupied, authorities said.
A spokesman for the New York Police Department confirmed to KTLA that a complaint had been filed against 67-year-old Collins, and that the Manhattan Special Victims Unit was investigating.
The department was investigating allegations about an incident that occurred 40 years ago in New York, a senior law enforcement official told CNN.
A November 2013 court document obtained by TMZ stated that Grant believed the incidents occurred over a decade earlier. In the document, Grant referred repeatedly to Collins' "secret life," alleging that his therapist told her Collins had narcissistic personality disorder with sociopathic tendencies.
"Obviously I am sickened by Stephen's actions," Grant wrote. "I have spent the past 20 months coping with the trauma of learning about Stephen's illness and worrying about my moral and legal responsibility. I have urged Stephen multiple times to seek proper treatment for pedophilia."
Grant wrote that she reported the allegations to police in New York and Los Angeles after her husband admitted to incidents involving three girls. The father of one of the alleged victims sent two letters to Grant "berating" her for not turning Collins in and then verbally threatened a civil lawsuit against her, she wrote.
Los Angeles Police Department Cmdr. Andrew Smith told KTLA that allegations of possible criminal misconduct were made against Collins in 2012, and detectives investigated.
"They were not able to find a victim here in Los Angeles, so that case was concluded," Smith said. "Until we are able to locate a victim, that case is basically at a standstill."
LAPD Juvenile Division detectives had spoken to their counterparts in New York, and said no new information showed a victim in L.A., Smith said.
"We're looking at our investigation again and making sure we covered everything. As of right now, there is no information to lead us to believe there is a victim in Los Angeles. If there is, of course we'll jump on it," Smith said.
Collins and Grant, an actress, have been undergoing prolonged divorce proceedings, the website reported.
The divorce trial is ongoing in Los Angeles Superior Court, a court spokeswoman said. The next hearing date in Nov. 12.
UP TV said in a statement that "7th Heaven" was pulled "in light of media reports that cast member Stephen Collins is the subject of a criminal investigation involving sexual contact with underage girls."
Charley Humbard, CEO of the network, said the show had been a "fan favorite" but was being removed as of 5 p.m ET Tuesday.
"As a top family-friendly network, we are deeply concerned for the families that are potentially affected by these disturbing allegations surrounding actor Stephen Collins," Humbard said in the statement. "Replacing '7th Heaven' tonight will be 'Supernanny,' a series dedicated to bringing families together."