This is an archived article and the information in the article may be outdated. Please look at the time stamp on the story to see when it was last updated.
Two politicians from the small Orange County city that helped spark an anti-sanctuary movement in California plan to meet this week with President Trump to talk about illegal immigration.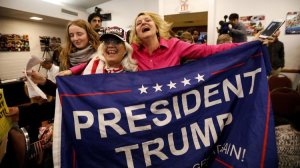 On Wednesday, Los Alamitos Mayor Troy Edgar and Mayor Pro Tem Warren Kusumoto will join Trump at the White House at the president's invitation.
"Mayor Kusumoto and I am very honored to be invited to the White House and represent the City of Los Alamitos," Edgar said.
Orange County Supervisor Michelle Steel and a few other elected officials from San Diego were also invited to the meeting to sit down with Trump to talk about the anti-sanctuary actions taken by various municipalities across the state, Edgar said.
Read the full story on L.A. Times.