This is an archived article and the information in the article may be outdated. Please look at the time stamp on the story to see when it was last updated.
LAGUNA WOODS, Calif. (KTLA) — Authorities in Orange County on Wednesday were asking for help identifying possible additional victims of a caregiver arrested for alleged elder abuse and sexual battery.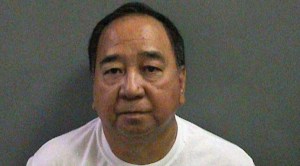 Robert Ligayo, 62, of Aliso Viejo, was taken into custody on Monday night by members of the O.C. Sheriff's Department Special Victims Detail.
A 66-year-old woman reported that Ligayo had been sexually abusing her for the past six months, according to a department news release.
During the investigation, Ligayo admitted to assaulting the victim, sheriff's officials said.
Ligayo's bail was set at $100,000. He has no other criminal history, authorities said.
Ligayo has been a licensed caregiver since 2001 and has worked for several caregiver companies in Orange County.
Anyone with information was asked to contact the Orange County Sheriff's Department at (714) 647-7000 or O.C. Crime Stoppers at 855-TIP-OCCS (855-847-6227).