This is an archived article and the information in the article may be outdated. Please look at the time stamp on the story to see when it was last updated.
On May 12, Frank Kerrigan buried his son in a plot next to his late wife in California. About two weeks later, Kerrigan received a phone call and a voice he wasn't expecting.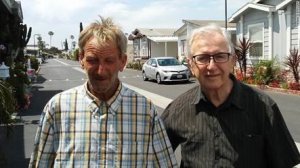 "Are you sitting down? Frankie is alive," a family friend told the elder Kerrigan, 81, before handing the phone to his 57-year-old son, who is also named Frank.
Kerrigan's oldest child — who is homeless and mentally ill — had visited the home of a family friend, a pallbearer at the funeral.
According to the Kerrigan family and their attorney, the Orange County Coroner's office claimed the younger Kerrigan died on May 6. Officials told his father they identified him through his fingerprints, the family said.
But officials had wrongfully identified the body of a man who was found dead outside a cellular store in Fountain Valley, California. The family's attorney said the identification was made with an old Department of Motor Vehicles photo.
"It feels like a miracle that my son is actually alive, but that does not take away the pain and grief we've gone through since this ordeal began," the elder Kerrigan said.
The younger Kerrigan's sister, Carole Meikel, 56, of Silverado, California, said she wants answers.
"This was just blatant disregard because he was homeless, just a throw away," said Meikel.
'Procedures were cut short'
A family attorney, Matthew Easton, expects to file notices of claims, a prelude to a lawsuit, against Orange County on behalf of the elder Kerrigan and Meikel.
Easton alleges the younger Kerrigan's civil rights were violated and that the family suffered from emotional distress.
The coroner failed to "follow proper protocols and precautions in the identification process" because Kerrigan was homeless, Easton said in an email to CNN.
He said the actions "were so outrageous that they shock the conscience, which can constitute a tortious civil rights violation under Federal law."
The family is seeking a little more than $2 million in damages, which includes $20,768 in funeral and burial costs.
In an email, Easton said "that cemetery, which used to be a place of serenity and calm where the matriarch of the family is buried and where they thought they were interring their son and brother to be at peace with her, is now desecrated."
The Orange County Sheriff's Department is conducting an internal investigation into the "misidentification of a decedent," according to a statement from Lt. Lane Lagaret.
"The department extends regrets to the family of Frank M. Kerrigan 57, for any emotional stress caused as a result of this unfortunate incident," the statement said.
Easton told CNN he didn't know if the family of the person who was buried had been notified of the death or the mistake. "The coroner has given no explanation and offered no information regarding what they plan to do with the body in the grave," he said.
'There was blood and a dirty blanket'
The family's ordeal started when the elder Kerrigan received a note from the Riverside County Sheriff's Office telling him to call the Orange County Coroner's office about his son, according to a copy of the claim. That's when the family was told the younger Kerrigan had been found dead near the cellular phone store.
Kerrigan asked if he needed to come to the coroner's office to identify his son. He said he was told there was no need because they had his fingerprints and a positive identification.
He was told he couldn't claim the body until after an autopsy was performed, the claim said.
Kerrigan and Meikel went to the scene. She left a candle, flowers, a rosary from her daughter's kindergarten graduation and a framed photograph of her brother, with a note that said, "your family loves you."
"There was blood and a dirty blanket," she said. "It felt like something bad happened there."
Meikel wondered if her brother — whose life unraveled after his mother's death — had died violently. She feared he would die homeless and hungry.
"I was horrified," she said.
The next morning, she said the called the Orange County Sheriff's Department. They assured her that her brother had died peacefully.
Things didn't add up
But to Meikel and her father, some things didn't make sense.
"They told my father they identified him through fingerprints. They told me they had his identification but his wallet was empty," she said.
A bag they received wasn't the black attache case her brother carried. And authorities could not locate his belongings, which included a cherished watch and pin, she said.
Then came the phone call from the pallbearer on May 23.
On June 1, Easton said his office informed the coroner's office of their mistake. He said officials said they ran the existing fingerprints again and got a match. But they never exhumed the body buried next to Kerrigan's late wife.
Meikel said the family had to notify everyone at the funeral that her brother was alive. She said she still grieving but relieved.
"It's a blessing but it doesn't wipe away what happened," she said.