This is an archived article and the information in the article may be outdated. Please look at the time stamp on the story to see when it was last updated.
MISSION VIEJO, Calif. (KTLA) — A veteran sheriff's deputy was injured in a solo-vehicle crash in Mission Viejo on Monday morning, authorities said.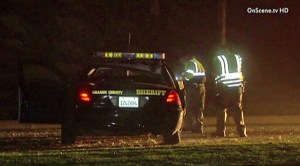 It happened around 3 a.m. at Marguerite Parkway and Alarcon Street, according to the Orange County Sheriff's Department.
The deputy was ejected from his cruiser. He was taken to Mission Hospital, where he was listed in serious but stable condition.
The cause of the crash was under investigation.
The deputy's name was not immediately released.
He was a 13-year veteran of the department, and currently worked in Mission Viejo with the police services team.
Marguerite Parkway was closed between Vista Del Lago and Alarcon Street in both directions for the investigation.