This is an archived article and the information in the article may be outdated. Please look at the time stamp on the story to see when it was last updated.
An Orange County sheriff's deputy who in 2013 continued to shoot a felled suspect and then stomped his head may be sued for using excessive deadly force, a federal appeals court decided Wednesday.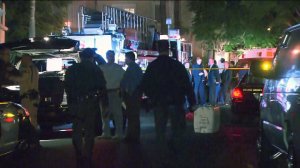 "When police confront a suspect who poses an immediate threat, they may use deadly force against him," Judge Alex Kozinski wrote for a unanimous three-judge panel of the U.S. 9th Circuit Court of Appeals. "But they must stop using deadly force when the suspect no longer poses a threat."
In an unusual action, the court released the police videos of the fatal shooting, which can be viewed here and here. The shooting occurred three minutes into the first video and 3½ minutes into the second.
The court reached its decision in a lawsuit filed by the mother of Connor Zion, 21, who suffered seizures, bit his mother and cut her and his roommate with a kitchen knife, according to the court.