This is an archived article and the information in the article may be outdated. Please look at the time stamp on the story to see when it was last updated.
Orange County pediatrician Bob Sears, known for his unorthodox views on vaccinations, faces disciplinary action from California's medical board for charges of gross negligence.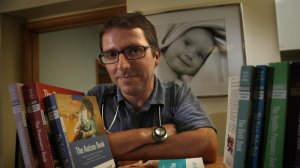 The board filed its administrative disciplinary action September 2 against the Dana Point doctor. If Sears is found guilty of the charges, the board could revoke his license to practice medicine.
According to the document filed by the board, Sears wrote a letter recommending that a 2-year-old be excused from all future vaccinations based on the mother's description of the toddler's past response to immunization shots. Sears' records include the mother's description of "shut down stools and urine" and the child becoming limp "like a ragdoll" for 24 hours after the shot.
However, the medical board accuses Sears of failing to obtain a detailed medical history, failing to maintain his letter within the child's medical chart and failing to provide evidence-based recommendations for future vaccinations.
Other negligence charges concern this same patient, referred to by the initials J.G., whom Sears treated during six visits over the course of about a year. In one instance, Sears prescribed garlic to treat J.G.'s upper respiratory illness, according to the board. Another time, Sears did not conduct neurological testing following complaints of headache after the child was hit by a hammer.
Both of these departures from the standard of care are cause for investigation, according to the medical board, which also cites Sears' failure to keep adequate medical records.
"We've received a complaint on this issue, and it seems to be valid, and we're going to be moving forward on this," board spokeswoman Cassandra Hockenson said. Going forward, there will be an administrative law hearing (PDF) before an administrative judge, she said, noting that these cases amount to a number of conferences between the board and the physician before a judge. "He's entitled to counsel," she added.
An unusual figure in the vaccine wars, Sears is often painted in the corner of anti-vaxxers, but he describes himself as "pro-vaccine," as do readers of his 2011 book, "The Vaccine Book: Making the Right Decision for Your Child." In it, the pediatrician proposed an alternative vaccination schedule to the one recommended by the Centers for Disease Control and Prevention. In previous interviews with CNN, Sears promoted the view that parents deserve informed consent.
According to Steve Boreman, formerly the attorney general's liaison to the California Medical Board, the board has to investigate every complaint.
"A complaint comes in; it gets looked at; if it looks viable, they send it to a medical consultant, mainly a doctor in the same field, and that consultant will make a recommendation," explained Boreman, a practicing attorney specializing in health care law. Reports are sent to the state's attorney general, who writes a formal opinion on the matter, and then action is taken, as it has been here.
Judgment of negligence is quite subjective, he said. "This is all based on what the standard of care is, which can vary a little bit, not only from state to state but also region to region," Boreman said, adding that even within subspecialties, standard of care may be "a matter of opinion. It's not black and white."
Though it's not "necessarily unusual" that the board would cite inadequate records, this is "kind of a funny case," said Boreman, because damage to the child is not obvious, and neither death nor a serious medical condition resulted from Sears' alleged negligence. The board, though, decided that Sears' possible negligence left the "patient, J.G., the patient's mother, and his future contacts at risk for preventable and communicable diseases."
Under California's Senate Bill 277, which went into effect in July, vaccines are mandatory. The law eliminates exemption from vaccines based on personal beliefs and charges schools and other public or private childcare enterprises with excluding children who are not up to date on their shots.
According to Hockenson, Sears and board representatives will most likely meet several times. The resulting disciplinary action "can be anything from a letter of reprimand, it can be probation, record-keeping classes. He could have a suspension for maybe 30 days or maybe longer."
Boreman said he's seen negligence cases "settled with just discussion" or with a medical license being yanked, but both of these extremes are not the usual result. More likely, the outcome will fall somewhere in between. A public letter of reprimand does not do much harm, said Boreman, but if Sears gets placed on probation, "that's quite an economic punishment." Some larger HMOs, including Blue Cross Blue Shield, will exclude doctors during a term of probation.
"The biggest weapon we have is to take away someone's medical license," Hockenson said, admitting that this is where the board always starts before — in most cases — moving to a milder punishment. "We always try to get a settlement," she said.
Sears did not respond to a request for comment.