This is an archived article and the information in the article may be outdated. Please look at the time stamp on the story to see when it was last updated.
A construction worker is believed by Orange County fire officials to be dead after he was buried by dirt when a trench collapsed at a construction site in Lake Forest Wednesday afternoon, authorities said.
Firefighters have been working to recover the man's body at the site near Glenn Ranch Road and Viejo Ridge Drive. The incident happened at around 3 p.m.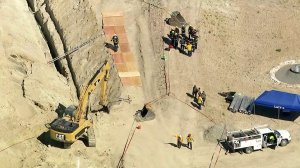 At about 5 p.m., fire officials said they would be removing dirt from the trench "for several hours" as part of recovery efforts.
The trench is about 15 feet deep and 17 feet wide, officials said. Sky5 footage of the scene showed some splatters of blood inside the trench.
"To do this, they have to be safe," O.C. Fire Authority Capt. Larry Kurtz said of the firefighters trying to find the man's body.
Since the trench could collapse further, firefighters have to secure its edges with planks of wood "so they don't fall into the trench," Kurtz said.
A construction worker on scene told KTLA the man apparently killed was also a worker and good friend of his.
The incident occurred at the apparent site of a planned massive residential development called the Portola Center. The 195-acre project includes 930 homes, according to the city of Lake Forest's website.
No further information has been released by authorities.
Lake Forest – OCFA on scene of a trench collapse at a construction site; intersection of Glenn Ranch & Viejo Ridge. pic.twitter.com/4ESbMD9Psy

— OCFA PIO (@OCFA_PIO) May 9, 2018
Correction: A previous version of this story gave an incorrect size of the trench. The post has since been updated.