This is an archived article and the information in the article may be outdated. Please look at the time stamp on the story to see when it was last updated.
A little girl who had to have her arm amputated after doctors discovered she had a rare form of cancer met with her new best friend Wednesday, a kitten named "Doc," who was adopted by the girl's Orange County family after being badly injured and losing a leg.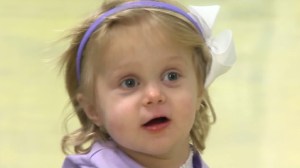 When Veterinary Technician Eileen Sanders first met Doc, she didn't think the small gray and white kitten was going to survive.
"There were several pieces of bone. Her paw was hanging off, and my instinct was immediately end her suffering," Sanders said.
Doc arrived at the San Jacinto Valley Animal Campus in Riverside County with a severely injured right front leg.
Staff members believe the leg may have been mangled in the fan belt of a car engine while the kitten was trying to stay warm.
But Doc pulled through, and was just the pet Matt and Simone Tipton wanted for their 2-year-old daughter Scarlette.
Scarlette is also an amputee, losing her arm to a rare form of cancer.
When she was born, her arm was unusually large and for a while, no one knew what was going on, her mother Simone Tipton said.
"She's actually the only one to ever have her exact type of cancer documented on earth," Simone Tipton said.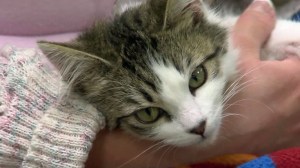 At just 10 months old, Scarlette underwent surgery at the Mayo Clinic in Minnesota. She lost her left arm but is now cancer free, her mother said.
"When we saw Doc it was like, hello, this is perfect," Scarlette's mother Simone Tipton said.
Now Doc is part of Scarlette's family and the two will be together for a long time.
"It created a lot of joy in our family … she understands she's not the only one," Scarlette's father Matt Tipton said.