This is an archived article and the information in the article may be outdated. Please look at the time stamp on the story to see when it was last updated.
One of the Orange County inmates captured over the weekend after escaping a Santa Ana jail late last month was due in court Tuesday on a previous kidnapping and torture case.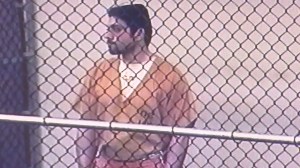 Before the jail escape that made national headlines, Hossein Nayeri, 37, of Newport Beach, had been charged in the abduction of a marijuana dispensary owner and a woman from Newport Beach who were later found in the Mojave Desert.
The victim was taken to the desert because the attackers mistakenly thought he had buried $1 million dollars there, the Los Angeles Times reported.
Nayeri and two other men were accused of burning the dispensary owner with a blowtorch, cutting the his penis off and pouring bleach on him.
The victim was then left behind to die in the desert, but the woman managed to flag down a Kern County sheriff's deputy and the two were rescued, the Times reported.
A pretrial hearing for Nayeri and Kyle Shirakawa Handley, one of the others charged in the case, was set to take place Tuesday.
On Saturday, Nayeri and Jonathan Tieu, 20, were arrested in San Francisco after breaking out of a Santa Ana jail on Jan. 22 along with 43-year-old Bac Duong.
While on the run, the three allegedly kidnapped a taxi cab driver and argued over whether to kill him.
Duong was taken into custody after turning himself in Friday.
The trio made their first court appearance Monday.