This is an archived article and the information in the article may be outdated. Please look at the time stamp on the story to see when it was last updated.
Three men accused of escaping from an Orange County jail and evading authorities for a week were charged with additional counts of kidnapping and vehicle theft, according to the Orange County District Attorney's Office.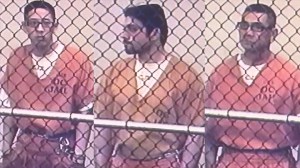 Bac Duong, 43; Hossein Nayeri, 37, of Newport Beach; and Jonathan Tieu, 20, of Fountain Valley; were charged Friday with one felony count each of kidnapping to commit robbery and the unlawful taking of a vehicle.
The charges were in addition to previous accusations of escaping from pending felony charges, and come after the men were accused of escaping from custody by repelling themselves down an Orange County jail's rooftop, according to the DA.
After making their escape, Duong allegedly called independent taxi cab driver Long Ma.
Ma drove the men to a Target before Duong allegedly asked Tieu for a firearm and pointed it at Ma's rib cage. The men then took the victim's cellphone, wallet, and keys, and pushed down the vehicle's child lock feature so he could not escape, a DA news release stated.
The men were then accused of using Ma's driver's license to rent a motel room and obtain money.
The defendants then allegedly responded to a Craigslist advertisement for a van, which Duong later stole so the four men could travel north to San Jose.
Once in San Jose, Duong and Nayeri were said to have fought physically over whether or not to kill the taxi driver.
On Jan. 29, Duong drove himself and Ma back to Orange County and Duong surrendered.
The following day, Nayeri and Tieu were apprehended; Nayeri was accused of attempting to flee San Francisco police, and Tieu allegedly attempted to conceal himself under a blanket in the stolen van.
All three men appeared in court Friday and were scheduled to return on April 22.
If convicted, Nayeri and Tieu face a maximum sentence of 10 years and eight months for the case, and Duong faces 12 years and eight months.
If convicted, Nayeri and Tieu face a maximum sentence of 10 years and eight months for the case, and Duong faces 12 years and eight months.
However, all three men face a slew of additional charges in connection to previous crimes.
Hossein Nayeri
Nayeri was accused in a gruesome 2012 crime in which an unidentified man was tortured — including being burned by a blow torch and having his penis severed, and taken so it could not be reattached.
The defendant and two accomplices were allegedly trying to obtain money they incorrectly thought the victim had buried in the desert.
The victim survived, but spent an "extensive period of time" at the hospital recovering.
Nayeri's charges include kidnapping for ransom, aggravated mayhem and torture. He faces a maximum sentence of life in prison.
Jonathan Tieu
The youngest of the escapees faces a felony count of special circumstances murder and attempted murder, among other charges, and a maximum sentence of 84 years to life in state prison.
Tieu, who was allegedly an active gang member at the time of the 2011 crime, was said to have taken part in a shooting that left one accused rival gang member dead and another injured from multiple gunshot wounds.
Bac Duong
Duong was accused of running toward a person with a firearm in November 2015, shooting the gun, and hitting the victim at least once in the upper chest before leaving the scene. The following month, police said he attempted to evade capture and led officers on a pursuit.
The defendant faces several charges, including attempted murder. In addition, he faces sentencing enhancement for being convicted of second-degree burglary in 1995 in San Diego County, reckless evading of a police officer in 2008 and possession for sale of a controlled substance in 2011.
Duong was scheduled for a pretrial hearing on March 15.