This is an archived article and the information in the article may be outdated. Please look at the time stamp on the story to see when it was last updated.
Three men accused of escaping from an Orange County jail, and evading law enforcement for more than a week, made their first appearance in court on Monday.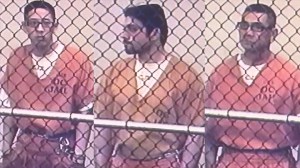 Bac Duong, 43; Hossein Nayeri, 37, of Newport Beach; and Jonathan Tieu, 20, of Fountain Valley; all face a felony count of escape from pending felony charges, according to the Orange County District Attorney's Office.
The three men appeared in different court rooms Monday morning, and their arraignments were each postponed to March 4. Duong spoke to the judge through a Vietnamese interpreter.
Nayeri and Tieu each face a maximum sentence of three years in state prison for the case, while Duong faces nine years because of a prior strike.
Duong, who was suspected in an attempted murder at the time of his escape, had previously been convicted of first-degree burglary in 1995 in San Diego County, second-degree burglary in 2007, reckless evading of a peace officer in 2008, and possession for sale of a controlled substance in 2011, according to the DA.
Tieu faced a murder charge at the time of his escape, and Nayeri had several charges against him, including kidnapping, aggravated mayhem and torture stemming from a 2012 case in which he and two other men were accused of burning a man with a blowtorch, cutting the victim's penis off and pouring bleach on him,  according to officials.
The men escaped from jail on Friday, Jan. 22, and subsequently kidnapped a taxi driver, hid at the Flamingo Inn in Rosemead, stole a van in Los Angeles, and fled to San Jose, according to Orange County Sheriff's Department Capt. Jeff Hallock.
After a week on the lam, Duong left San Jose with the taxi driver and turned himself in.
On Saturday, Nayeri and Tieu were arrested in San Francisco.
An English as a second language teacher, Nooshafarin Ravaghi, 44, who had been arrested on suspicion of aiding the escapees, was also released Monday after the DA said there was insufficient evidence to charge her.