This is an archived article and the information in the article may be outdated. Please look at the time stamp on the story to see when it was last updated.
A Fountain Valley man is suing Heineken and The Kroger Co., saying he found two dead geckos in a beer can he bought at a local Ralphs supermarket.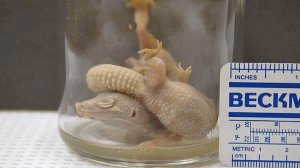 George Toubbeh alleges he suffered severe abdominal pain in August 2015 after he drank from a 24-ounce Heineken he bought from a Ralphs in Fountain Valley, according to a lawsuit filed in Orange County Superior Court on Friday.
The Ralphs chain is owned by Ohio-based Kroger.
According to the suit, Toubbeh noticed that the beer had a foul taste and he immediately began having abdominal pain and started vomiting. His daughter examined the can of beer and found two juvenile leopard geckos inside, the suit states. Geckos are a type of lizard.
Read the full story on LATimes.com.