This is an archived article and the information in the article may be outdated. Please look at the time stamp on the story to see when it was last updated.
A man had to be rescued early Monday after getting stuck in a chimney at a home in Lake Forest.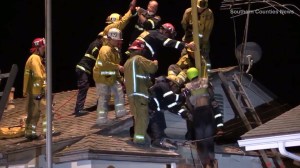 The incident began around 3 a.m. in the 24000 block of Belgreen Place (map) after a "family dispute," according to Orange County Sheriff's Department Lt. Mark Kiernan and Orange County Fire Authority Capt. Steve Hurdle.
The man got stuck nearly all the way down the fireplace after trying to get into the chimney "Santa-Claus-style," Kiernan said.
He was trying to get into his ex-wife's house at the time, authorities said.
Rescue crews used their gear to take apart the chimney in order to get the man out, according to authorities.
The man suffered mild, non-life-threatening injuries as a result of the incident.
No criminal charges were expected to be filed, according to authorities.
KTLA's Justin Burton contributed to this report.