This is an archived article and the information in the article may be outdated. Please look at the time stamp on the story to see when it was last updated.
A Huntington Beach man who tumbled 1,000 feet down an ice chute on Timber Mountain -- in the Mount Baldy area, which has seen several deaths this winter -- discussed his ordeal on Monday.
Jason Lopez was hiking out of Icehouse Canyon toward the approximately 8,300-foot peak with his brother-in-law Rob Wayman on Jan. 23 when he lost his footing.
"We were about 500-600 feet away from the top when I suggested we move off the icy snow onto a patch of rocky dirt," Wayman wrote on a GoFundMe page.
"As I turned my head around to check on Jason, he lost his footing and started to slide on the icy snow. I shouted to Jason as I saw him try to regain control and traction to put his feet down and dig in his spikes. Between the iciness of the snow and the lack of weight on his feet he was unable to stop and continued a fast descent down the snow-covered mountainside until he wasn't visible anymore. I quickly started yelling his name and listening to see if I could hear his voice, and each time I heard nothing," the post stated.
A group of other hikers quickly joined Wayman as he raced down the mountain looking for Lopez. It was one of those good Samaritans who finally located Lopez by following a trail of his blood, according to the GoFundMe page.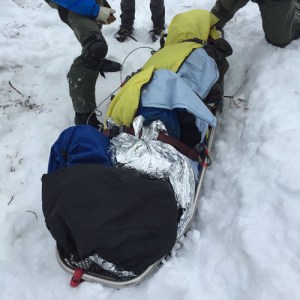 "The side of his face and clothes soaked in blood and he was semi-conscious moaning in pain and confusion," Wayman stated.
Lopez was airlifted off the mountain and taken to a trauma center.
He sustained multiple head injuries including a fractured skull and eye socket as well as deep cuts and road rash on his face and body, according to the post.
Lopez, who said he was grateful to be alive, was finally back home with his wife and children. But, he still had a long road ahead of him in terms of his recovery.
He did have a few words if advice for other hikers: "I would say, if anyone is wanting to go up to the San Gabriel Mountains, that they have the necessary training."
Correction: An earlier version of this article gave an incorrect description of the location where Lopez fell. The story has been updated.