This is an archived article and the information in the article may be outdated. Please look at the time stamp on the story to see when it was last updated.
Orange County Sheriff Sandra Hutchens testified Wednesday that her deputies may have flouted rules regarding jailhouse informants, but that such conduct was committed only "by a few."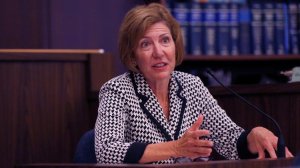 "It is not something widespread," Hutchens said under questioning from Assistant Public Defender Scott Sanders, who alleges that the Sheriff's Department has engaged in an elaborate, decades-long jailhouse snitch operation that it took great pains to conceal from defense attorneys.
Asked to elaborate, Hutchens pointed to Seth Tunstall, William Grover and Ben Garcia, who worked as jailers in the so-called special handling unit that dealt with informers. "They are still under criminal investigation" by the California attorney general's office, Hutchens said.
Hutchens added: "There may have been a few deputies who took their duties to different levels than were authorized."
Read the full story on LATimes.com.