This is an archived article and the information in the article may be outdated. Please look at the time stamp on the story to see when it was last updated.
A woman with a prior conviction for driving under the influence has been arrested for murder for a 2016 crash in Lake Forest that left a man dead, authorities announced Friday.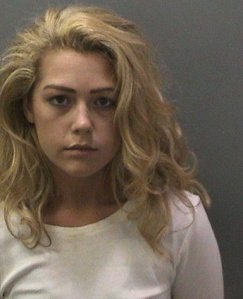 The district attorney had issued a warrant to arrest 24-year-old Jacie Cornish of Foothill Ranch for murder, the Orange County Sheriff's Department said in a statement. She was booked into county jail on Monday, according to the news release.
Because Cornish had a prior DUI conviction in 2015 in Orange County, authorities said the 2016 case was eligible for a "Watson murder," where a person previously "admonished about the dangers of driving under the influence of alcohol and/or drugs" becomes involved in a deadly crash while under the influence.
Deputies said Cornish had traceable amounts of marijuana and more than double the legal limit of alcohol in her blood after her Hyundai sedan collided with a Ford pickup truck around 2 a.m. in October 2016. The crash occurred on Alton Parkway between the 241 toll road and Towne Centre Drive.
Cornish was driving more than 100 mph in a 40 mph zone, the Sheriff's Department said. This caused Jose Barrazasato's truck to roll, according to officials, resulting in his fatal injuries and injuring his spouse who was sitting in the passenger seat.
Officials pronounced Barrazasato, 40, dead at the scene. Cornish sustained minor injuries, the Sheriff's Department said.
Cornish faces 15 years to life in prison if convicted, the Sheriff's Department said.