This is an archived article and the information in the article may be outdated. Please look at the time stamp on the story to see when it was last updated.
A 95-year-old World War II veteran who was shot down over Germany got the chance to return to flight aboard a B-17 in Southern California Wednesday.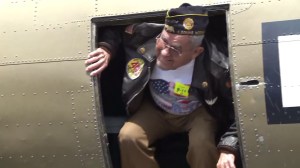 Lou Tirado was held as a prisoner of war for eight months after the B-17 in which he was a ball turret gunner was shot down. The tail gunner and the pilot both died, but Tirado and six other crew members parachuted out and were imprisoned.
Thanks to a volunteer effort, Tirado took a ride in that same model, taking off in Riverside and landing at John Wayne Airport in Santa Ana on Wednesday.
"It's unbelievable. I still don't believe it," Tirado said. "The last time I was in a B-17 was the day we got shot down … 72 years in September."
Tirado got choked up as he spoke about the two crew members who died.
"They deserve a lot more than this," he said.
Tirado, who now lives in Laguna Woods, was able to get into the plane's ball turret to take a look at the cramped seat in which he traveled into combat.
The B-17, part of the collection of an education nonprofit called the Collings Foundation, will be on display at the Lyon Air Museum at John Wayne Airport through Sunday.