This is an archived article and the information in the article may be outdated. Please look at the time stamp on the story to see when it was last updated.
In the years leading up to a fatal fire that killed 36 people inside an Oakland warehouse, city officials visited the building numerous times and investigated at least 10 code enforcement complaints, according to records released Wednesday by the city.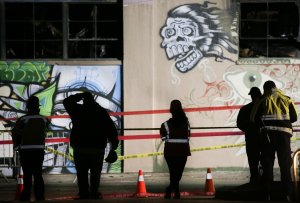 Despite mounting evidence that the warehouse had been converted into an illegal residence and music venue, the city never moved to shut down the Ghost Ship, the documents show. The city had received several complaints that the conditions inside the warehouse were unsafe, including reports of piles of trash and faulty electrical wiring.
The release of the records, requested by the Los Angeles Times and other media outlets, comes amid criticism of what many consider Oakland's lax enforcement of conditions at the Ghost Ship and other converted warehouses around the city.
The warehouse caught fire Dec. 2 during a concert, trapping scores of people inside.
Click here to read the full story on LATimes.com.